Summer Reports, Booklists, Book Grant, Back to School details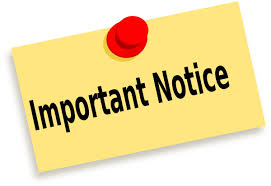 You will have access to your child's summer school report online from June 14th 2019. A username and password will be sent to the SMS number that we have on file. For full details on how to use this service please see the homepage of the school website.
Booklists are available below to download. They are also in the Treasury Bookstore in New Ross.
You will receive a text message from the school if you are in receipt of a book grant, the school will inform the Treasury, New Ross of the amount of each grant. Terms and Conditions apply and these are available with your purchases in the Treasury and below here also.
Back to school details will be posted on the school website and the school Facebook page in August. We will inform you via SMS when this is done.
Many thanks for your continued support, wishing you all a lovely summer,
Rachel O' Connor, Principal.
Fifth-Year-Booklist-September-2019-2020
First-Year-Booklist-September-2019-2020
Leaving-Cert-Applied-Booklist-2019-2020
Transition Year Booklist 2019-2020