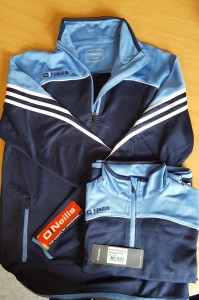 Any orders that were made online after June 13th will be included in the September order. The half zips are NOT an alternative to the school jumpers. Your child's name can be embroidered onto the half zip for a cost of €5.
An order has been placed on June 13th – another order will be placed in early September – subject to demand.
RCS – School Jacket is Compulsory as ratified by the Board of Management in 2014.
Payments will also be taken the evening of Wednesday June 8th at Information Evening for Incoming 1st Years.
The school is accepting payments for RCS ½ zips.
Payments can also be made online at www.ramsgrangecommunityschool.ie (available from May 25th)
The Azzurri School Jacket has been discontinued (but still fully acceptable as a school jacket)
An O' Neill's alternative has been chosen.  This ½ zip is NOT waterproof.
The original Regatta school jacket is still available for purchase from Wallaces, Wellingtonbridge for €45.
Pricelist for O Neill's ½ Zip
Size: 10/11 – €30
Size: 13/14  – €35
Size: Adults Small, Medium, Large – €38
These jackets will be ordered in bulk for delivery in August. Late orders cannot be guaranteed until a later batch is ordered.
The last day for orders this term is Wednesday September 14th.