This Covid-19 Response Plan is designed to support the staff and Board of Management (BOM) in putting measures in place that will prevent the spread of Covid-19 in Ramsgrange Community School.
The Covid-19 Response Plan details the policies and practices necessary for a school to meet the Government's 'Return to Work Safely Protocol', the Department of Education and Skills plan for school reopening and to prevent the spread of Covid-19 in the school environment. The plan incorporates current advice about measures to reduce the spread of Covid-19 in the community issued by the National Public Health Emergency Team (NPHET).
It is important that the resumption of school based teaching and learning and the reopening of school facilities comply with the protocol to minimise the risk to students, staff and others. As the advice issued by NPHET continues to evolve, this protocol and the measures management and staff need to address may also change.
The response plan will support the sustainable reopening of our school where the overriding objective is to protect the health of staff and pupils while promoting the educational and development needs of the children in the school.
In line with the Return to Work Safely Protocol, the key to a safe and continued return to work, and re-opening of our schools requires strong communication and a shared collaborative approach between the Board of management, staff, pupils and parents.
Student Return to School form is available in the link below: 23rd Feb 2021
Link for Student Return to School Form – Copy and paste this link into your web browser
RCS – One way system from September 2020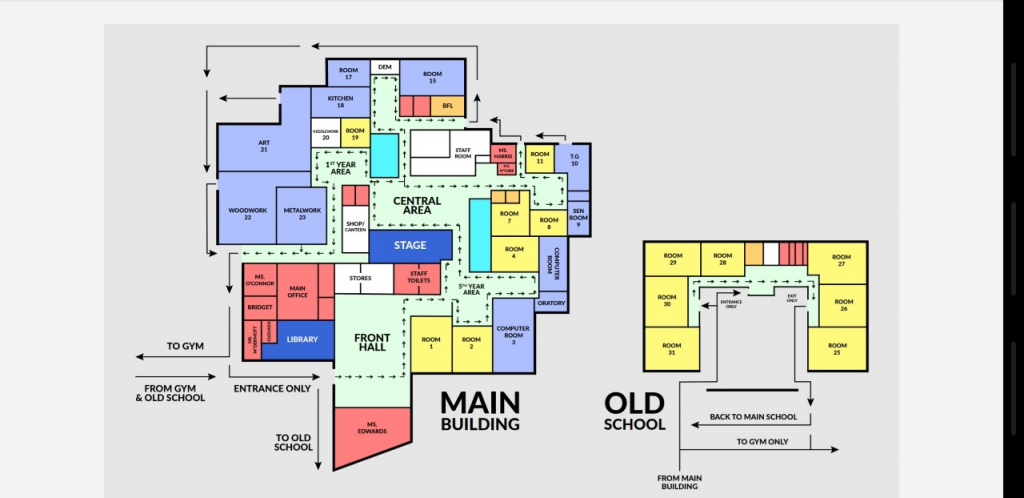 https://tinyurl.com/yywf4kdr How to wash your hands video!