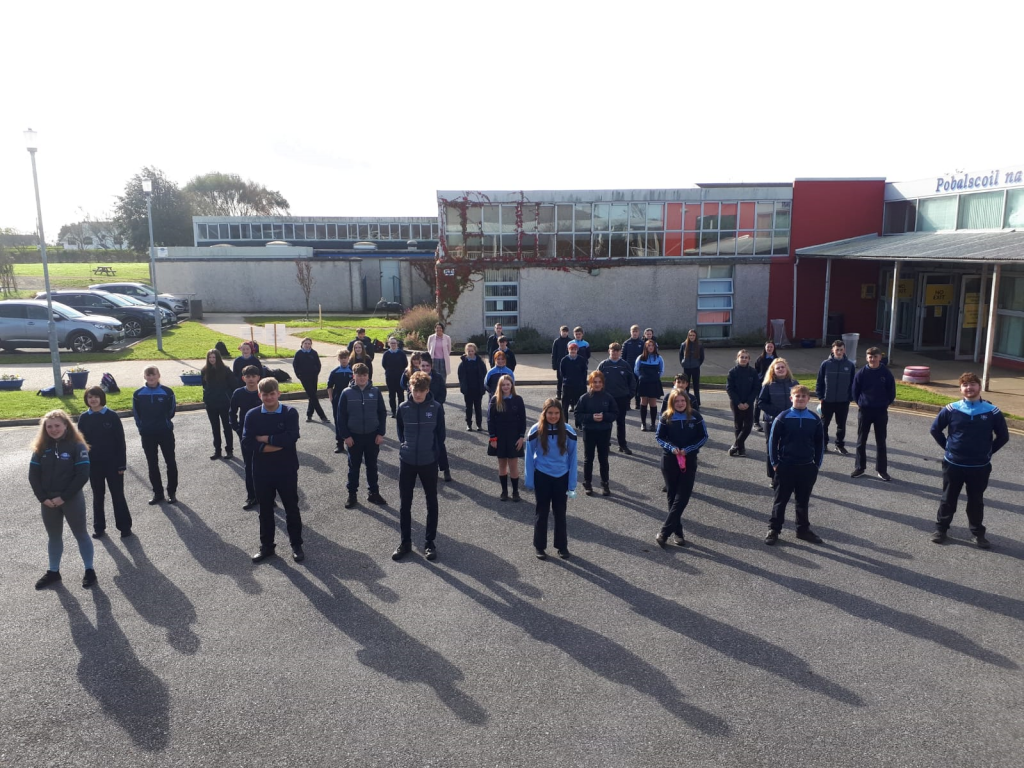 43 students were elected from all year groups to represent the student voice this year in RCS. I have emailed you the names from each class. We had our first meeting last Thursday where Mikey O'Regan was elected as chairperson, Adam Kelly as Deputy Chairperson and Rachael Kennedy as Secretary. The treasurer is Sophia Van Beusekom. To adhere to Social Distancing rules only one Rep from each class will attend each meeting every week…this will be done on a rotating basis.
Last week we looked at the 'RCS Health and Safety Control of Covid -19 Policy for students'. No studentshad any issues with what was in the policy. I read it through with the students so they were aware of  the standards of behaviour expected of students and consequences of failure to comply with the standards of behaviour.
Next Tuesday 13th October, Sr.Finola will facilitate on zoom a training session with our council members ( a selection of them). I am having a zoom session with her this week to finalise arrangements. Ms. Cullinane.
Update to the Board of Management November 10th 2020
Two members of the Student Council , Rachael Kennedy and Yvonne Murphy Walsh will represent RCS at Comhairle na nÓg seminar by zoom on Saturday 14th November.
Four members of the Student Council, Ava White Keating, Aoibhinn Doyle, Saoirse Doyle and Orla Wallace will represent RCS at ISSU regional meeting on Friday 20th November from 9-1pm by zoom.
Finola Cunnane St. Louis Network will be offering student leadership training to 22 remaining members of our SC on Tuesday 24th November from 9-11…again by zoom.
As part of our initiative in looking after the wellbeing of our students during Covid, SC are inviting students to take part in a poster competition titled 'Staying safe in school during Covid'. 20 euro first prize + lots of spot prizes.
Another initiative undertaken by two of our 6th yrs SC Reps, Ivana Duffin and Sophia Van Beusekom is to arrange a Christmas dinner for all 6th yrs on Thursday 16th December. Students will contribute 10 euro each to cover the cost of the meal.
In keeping with our wellbeing initiative, Calodagh McComiskey from Spiritual Earth will deliver a talk to all 6th years on Tuesday 10th November on wellbeing and resilience in 6th year…again over zoom.
SC members are busy organising thank you cards for Richard and Elaine from all RCS class groups.
SC members were delighted to see the info sent by Ms.O'Connor on the new canteen.
Mary Cullinane and Rachael Kennedy SC RCS.
Student Council 2020/2021
1A= Aoibhinn Doyle/ Jimmy Corish
1B= Molly Frayne/ Séan Óg Hanrahan
1C= Amy Walsh/ Drú O'Connor
1D= Kiera Roche/ Conor Burke
2A= Tori Molloy/ Kevin Voinea
2B= Jessica Finn/ Tommy Joe Furlong
2C= Summagh Walters/ Luke Kelly
2D= Katie Molloy/ Daniel Cirpaciu
3A= Abi Dunne/ Paul Kiely
3B= Orla Wallace/ Jack Walsh
3C= Mia Doyle/ Cian White
3D= Emily Egan/Paul Murphy
TY= Ava White Keating/ Mark Bates
LCA 1= Charlotte Byrne/ Ben Foley
5A= Sorcha Doyle
5B= Ellie Mason, Katie Kelly
5C= Sara Jane Kenny, Skye Kavanagh.
LCA 2= Yvonne Murphy Walsh, Alan O'Grady.
6A= Sophia van Beusekem/Ivana Duffin and Sophie Small
6B= Mikey O'Regan/Adam Kelly.
6C= Rachael Kennedy/ Leah Elizabeth Murphy/Clodagh Dempsey.