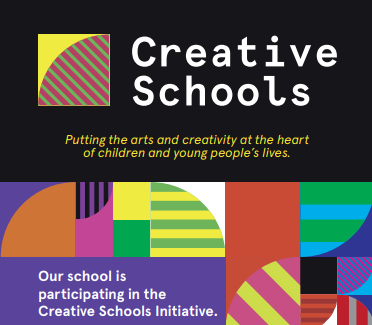 What is Creative Schools?
Creative Schools is a flagship initiative of the Creative Ireland Programme to enable the creative potential of every child. Creative Schools is led by the Arts Council in partnership with the Department of Education and the Department of Tourism, Culture, Arts, Gaeltacht, Sport and Media. The Creative Schools initiative supports schools/centres to put the arts and creativity at the heart of children's and young people's lives. This initiative provides opportunities for young people to build their artistic and creative skills; to communicate, collaborate, stimulate their imaginations, be inventive, and to harness their curiosity. It will empower young people to develop, implement and evaluate arts and creative activity throughout their schools/centres and stimulate additional ways of working that reinforce the impact of creativity on children and young people's learning, development and well-being.
Ramsgrange Community School, Creative Schools 2020-2022
RCS put in a successful application to become a Creative School in 2020. The success of the application is accredited to the already fantastic arts programmes that exist in RCS as well as the commitment and passion for the arts shown by our students, staff, parents and wider school community. As part of the Creative Schools Programme, the school was awarded a grant to facilitate the Creative Schools Plan. In December 2020, RCS met with their Creative Associate Tony McCleane-Fay who will work with RCS to help develop the programme along side our Creative School Coordinator RCS Art Teacher Avril Buttle. Student voice is an integral part of Creative Schools and as a result, a student committee was formed with representatives from every year group in the school. An advisory committee was also formed to support our creative journey. Committee members include school Principal Rachel O'Connor, Co-Ordinator Avril Buttle, Creative Associate Tony McCleane-Fay, Teachers Karen Hartigan, Marese Howley and William Gillard, Parents and Artist Helen Mason and Lorraine Waters and past HCL Ann Cadogan as well as representatives from the student committee.
The Arts in Ramsgrange Community School
The arts are and always have been an integral part of RCS. We have a long history of academic success in all of our arts subjects but more importantly, a long history of rich student engagement, community participation and parental involvement through the arts ensuring that all members of our school community have opportunities to be creative, express themselves and collaborate in innovative and imaginative ways. Below is a list of just come of the opportunities and arts experiences we have engaged in/are currently engaging in and offer in our school:
Formal teaching of the Visual Art, Drama, English, and Music Curriculum.
Craft club
Coding club
School band
Theatre and drama club
Junk Kouture
Living Arts Project with Wexford County Council
JCSP Artist Residency Project
Waterford Walls Collaboration
Mural collaboration with Helen McLean
St Patricks Day Parade collaboration with Caoimhe Dunn Puppetry
Metal work garden sculpture project
Bevel furniture JCSP initiative
Poetry Aloud
Portfolio club
Art Club
Success in local art competitions: Wexford Opera Talbot Art Competition, Texaco, Credit Union Art Competition, Mental Health Wexford.
School Choir
JCSP Music collaboration with Generation Wexford
JCSP Music collaboration with musician Anita Mahon
Production of school concert
Production of student written and directed school play
RCS 40 Community Art Exhibition
Primary school visual art workshops in the art department
Parent art groups
JCSP and Parent Gardens
Collaboration with Wild Metal outdoor sculpture project
Drumming workshops
Gallery trips to Dublin
Trips to the theatre
Artist, musician, and theatre invited guest speakers
Spoken word workshops