Photos of TY Activities 2015/2016
Trip to Office of the Ombudsman Dublin
Transition Year students enjoyed a very informative trip to the Office of the Ombudsman in Dublin on Wednesday 18th November, 2015. The engaged in lots of group activities which allowed them to consider the daily rights they have and are laid out in the UN Charter of Human Rights. They also learned about the Role of the Office of the Ombudsman for Children and what types of support can be given to them should there rights be infringed.  The TY student council representatives are looking forward to taking back this information to all students in Ramsgrange Community School and discussing the possibility of setting up of a Rights Committee for Students in the school.
Transition Year students and LCA students enjoyed a wonderful workshop with Roger Mehta in relation to Prevention Strategies for Drugs and Alcohol Misuse.
The students, through the medium of music, rap and poetry explored this topic and participated in their own group music/poetry writing session demonstrating their learning on the topic. The workshop was very informative, highly engaging and thought provoking and a well worthwhile one for the TY's. Some very powerful pieces of work were produced by the students.
The Transition Year group enjoyed a wonderfully informative Business Trip to Guinness Storehouse to learn about the development of this internationally renown global brand. This trip linked in well with their Business Studies module in TY particularly in relation to Enterprise and in relation to studying the importance of effecting Product, Place, Price and Promotion strategies in the Marketing Mix
The TY's particularly enjoyed the opportunity of critiquing the  works of their two favourite Irish artists Francis Bacon and Sean Scully. Dublin City Gallery The Hugh Lane houses the foremost collection of Irish and International modern and contemporary art in Ireland. Among the artists represented in the permanent collection are Auguste Rodin, Walter Osborne, William Orpen, Jack B.Yeats, Mary Swanzy, Norah McGuinness, Niki de Saint Phalle, Agnes Martin,William Scott, Patrick Scott, Joseph Beuys, Louis le Brocquy, Francis Bacon, Philip Guston, Elizabeth Magill, Sean Shanahan; Sean Scully, Brian Maguire, Dorothy Cross, Paul Seawright and Ellsworth Kelly. The Eve of St Agnes by celebrated Irish stained-glass artist Harry Clarke is on view alongside other exemplary stained-glass work. Also on view are renowned paintings from the Hugh Lane Bequest 1917 including La Musique aux Tuileries by Edouard Manet, Bains de Mer (petite fille peignée par sa bonne) by Edgar Degas, Lavacourt under Snow by Claude Monet and The Mantlepiece by Edouard Vuillard.The TY's particularly enjoyed the opportunity of critiquing the  works of their two favourite Irish artists Francis Bacon and Sean Scully as well as learning about frame restoration.
Visit by AirCorps Cadette and Past Pupil Tagdh Firman in Jan 2016
Driver Safety Awareness Module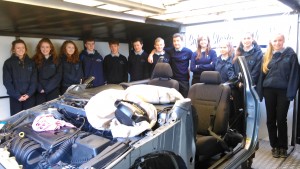 St Louis Schools Network Convention in Plaza Hotel in relation to Development Education on Tuesday 15th March 2016
TY Trip to Glasnevin Cemetry – March 2016
Iveagh Scholars is a competition which aims to encourage second-level students to consider Ireland's role in the world in an independent and creative way. The competition inspires students to learn the basic tenets of Ireland's foreign policy, and to consider how they can contribute to shaping it. The prize for 30 students across the island will be an opportunity to view first-hand the work of the Department of Foreign Affairs and Trade through a week-long programme that will be held in the headquarters of the Department in Iveagh House on St. Stephen's Green, Dublin. Iveagh Scholars is an element of the Global Horizons Programme which was launched last year by the Department of Foreign Affairs and Trade in order to reach out to Ireland's future policy-makers and offer them a unique opportunity to engage with and learn about the Department. Last year's inaugural competition was a tremendous success, and saw winning students from across the country participate in a dynamic programme of events which included a consular assistance exercise, visits to foreign embassies in Dublin, and a meeting with the Minister for Foreign Affairs and Trade, Mr. Charles Flanagan T.D. Now in its second year, the Department is expanding the programme following last year's success. Schools across the spectrum are invited to participate including, for the first time, students from Northern Ireland. Students can enter the competition in one of two ways: with a short written composition or a recorded video entry. This year's chosen theme, Honouring the Past, Imagining the Future, encourages students to consider Ireland's rich past and how it might help to inform our future role and impact on the global stage, particularly within the context of next year's commemorations of the 1916 Rising, the Battle of the Somme, and the 60th anniversary of Ireland's accession to the UN.
Congratulations to Sinead Waters and to her teacher Ms. Dowling!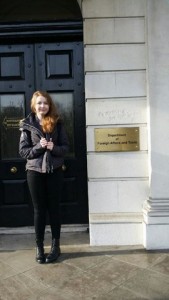 Scifest 2016
SciFest is a series of one-day science fairs for second-level students hosted locally in schools and regional level in third level colleges.The SciFest project consists of four distinct strands – local, regional, national and international. The aim of the project is to encourage a love of science, technology and maths through active, collaborative, inquiry-based learning and to provide a forum for students at local, regional and national level to present and display their scientific investigations.
Young St. Vincent de Paul – April 2016 – See Chaplains page for more details