Did you miss our Open Night 2016?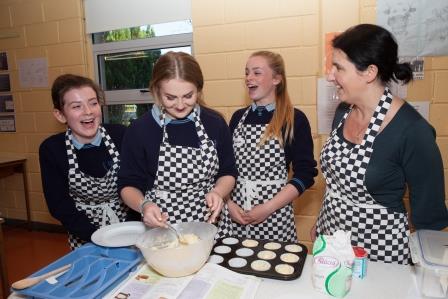 Our Enrolment evening is Wednesday October 26th 2016 – 6pm tp 8pm.
first-year-enrolment-form-september-2017
transfer-application-form-2017
Ramsgrange Community School held its' annual Open Evening on Thursday September 29th. 5th and 6th class pupils from nearly 20 different National Schools began arriving from 5.30pm. All guests were greeted at the door by Principal, Rachel O' Connor and Deputy Principal, Tracey Edwards.
Guests were brought on a tour around the school by 6th year Prefects and members of the Student Council. Teachers and students met Pupils in their classroom showcasing their particular subject areas. Science proved to big a very popular on the evening with pupils doing 'magic tricks', dissecting organs and even creating their own 'slime'! Woodwork, Art and metalwork combined and Pupils left very proud of themselves having created wooden coasters!
Pupils were kept busy with Maths & Geography Quizzes. Our students were busy playing music on the stage and others were competing in the annual Rotary Masterchef.  Rotary Masterchef is kindly sponsored by Floods, Centra and the winner this year was Latisha Ngouoto, 1st year.
Nearly 200 national school pupils signed in on the evening and RCS is very grateful to those who called in to visit us!