ETB County Athletics Track & Field 2015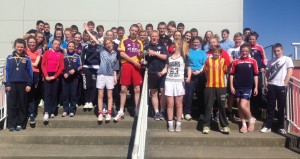 Another great day out for RCS when 45 students competed in County Athletics, Track & Field. There were medals galore for our Students and RCS won the overall cup !!!
Well done to all involved and thank you to Ms. Rogers & Ms. Culleton!
Ramsgrange Athletics Team
Winners of VEC Overall BEST SCHOOL CUP
Medal Winners 2015
Grace Kervick                                    Gold                Junior Long Jump
Gold                Junior High Jump
Nicole Keating                       Gold                Junior 800m
Libby Sutton                          Gold                Junior Discus
Lauren Kervick                      Gold                Inter High Jump
Silver              Inter Long Jump
Bronze            Inter 800m
Ryan Slowey                          Gold                Senior Long Jump
Siobhan Rowe                       Gold                Senior 100m
Silver              Senior 200m
Fiona Rowe                            Gold                Senior 200m
Silver              Senior Long Jump
Silver              Senior 800m
Bronze            Senior 100m
Ibrahim Ali                             Silver              Senior 200m
Dylan Cheevers                     Silver              Senior High Jump
Liam Power                           Bronze            Senior Long Jump
Adam Niedowski                   Bronze            Senior Shot
Bronze            Senior Discus
Eimear Gabbett                     Bronze            Junior 200m
Alison Gibbons                      Bronze            Junior Long Jump
Kieran White                         Bronze            Inter 200m
Megan White                         Bronze            Inter Long Jump
RELAYS
Intermediate Girls                 Bronze
Senior Girls                            Silver
Senior Boys                           Bronze
Michael Whelan         Gold Inter Discus
Bronze Inter SHot